Zodiac Warriors: Gorgeous Kayou Saint Seiya Cards
These Kayou Saint Seiya cards are just as awesome as anything else Kayou has made – if you like the show or the manga, you will love these!
By now, regular readers of the site should be very familiar with Kayou, but have you seen Kayou Saint Seiya trading cards? They are the biggest trading cards manufacturer in China, one of the biggest in the world in fact. They are the license holders in China for many awesome franchises such as Transformers, My Little Pony, and of course the incredible Marvel Hero Battle TCG. That's not all though, check out these gorgeous Kayou Saint Seiya cards!
Table of Contents
The Box
This is a recent Kayou release, having first appeared for sale earlier this year. As such it is using all the modern things we expect from Kayou 10-yuan products, just like the Transformers sets we love so much. The box is that tall thin design, it opens from the top and can be torn diagonally to make a retail display box. It contains 18 packs, unfortunately this release does not include any box promo or "hit" pack.
I bought my box from Small Frog Store for $33.57, a little high for 10-yuan but that Small Frog Store never has the best pricing. Still, I wouldn't expect to pick this up for much less than 30$ – even the Transformers sets never really get below $28.
On the bright side you should know it's officially licensed, is a Kayou product and even has an active secondary market! Companies like CCG and Mana will even grade these cards. From what I've seen this particular set has the most active secondary market, with regular sales of top cards. That makes sense given the popularity of the franchise and it's nearly 40 year history.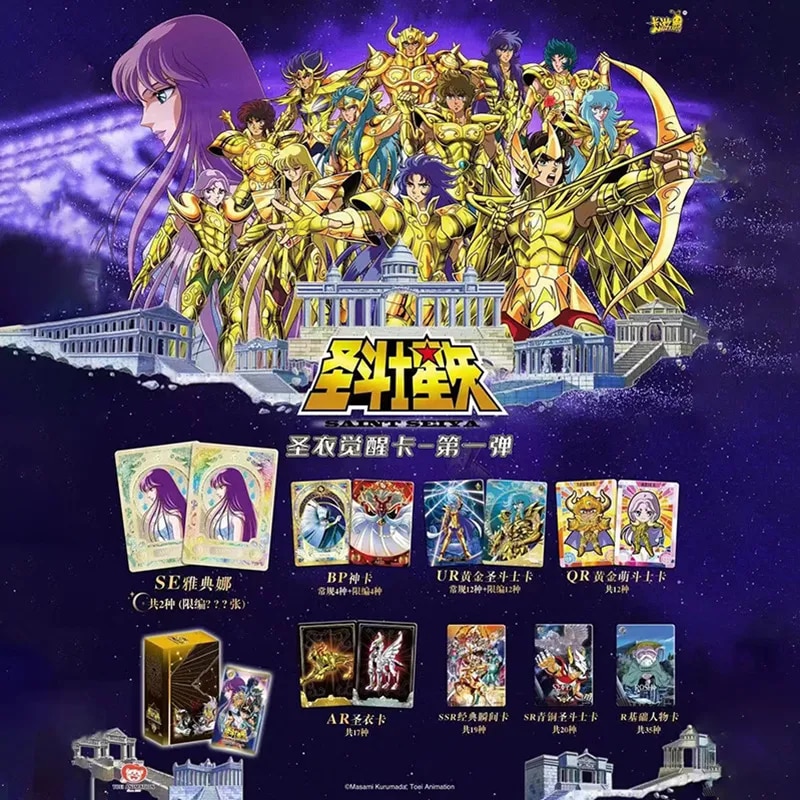 Saint Seiya is a long running franchise, having started back in 1986 as a manga. It now has multiple publishes series, OVA and anime productions and 6 movies! It's got quite an interesting storyline too, mixing Japanese and Greek mythology. The "Saints" are warriors of Athena, and Seiya was an orphan who unwillingly/luckily joined their ranks in the middle of a huge war against a corrupt Pope.
The franchise is also referred to as "Knights of the Zodiac", which is the modern incarnations title. Each of the characters embodies a zodiac sign which gives them different powers. Seiya himself uses Sagittarius for his sign.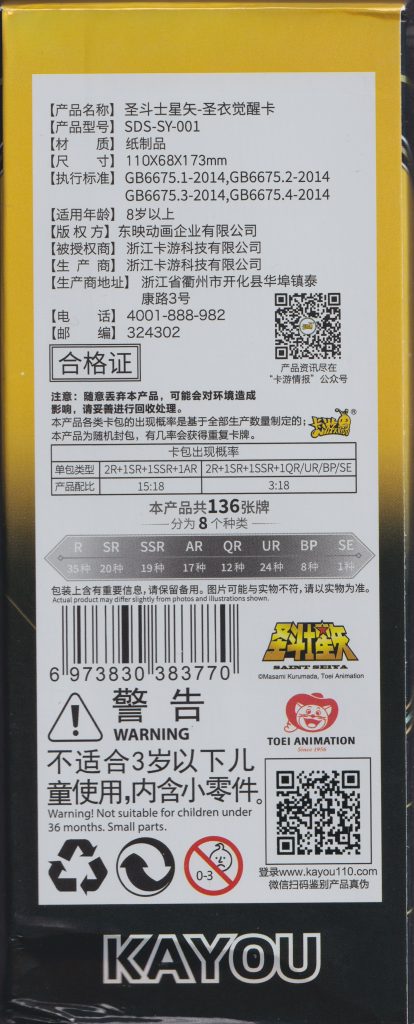 Kayou Saint Seiya Set
Kayou helpfully prints the basic set information on the back of the box. From that we see that there are 136 cards to collect with 8 different rarity levels. The base rarity, R, includes 35 cards featuring character artwork with basic foil treatments. SR kicks it up a bit by featuring the knights in their armor with beautiful constellations behind them. There are 20 SR cards to collect.
19 SSRs bring us classic moments from the show rendered in advanced foil treatments like only Kayou can do. AR cards feature the holy cloths that give each Zodiac Knight their powers, there are 17 of these. QR of course includes chibi versions of the knights with jaw dropping zodiac themed frame artwork.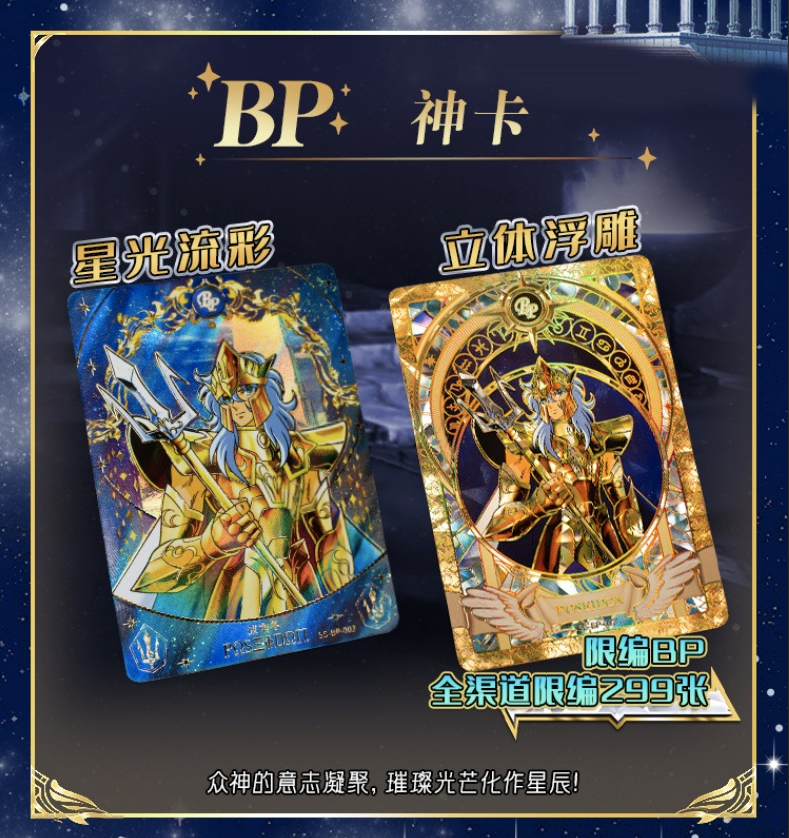 From here we enter limited territory. That's right even UR in this set can be serial numbered cards – specifically they are numbered to 666, there are also non-numbered versions. There are 24 UR cards to collect, which is brutal number once you understand the odds of this product. The UR cards depict golden fight scenes, with lots of shiny gold armor.
BP is the top normal rarity in the set, with 8 cards each and a limited version of each one to 299 prints. These feature the gods themselves from the show. Finally Athena gets her own special, almost Mucha-esque, trading card. It's an SE rarity card, and the only one. It comes in both numbered and non-numbered forms with the numbered form limited to just 99 prints. I cannot find any sales of this card, but looking at other pricing I would suspect it fetches at least 100$ if not more.

Kayou Saint Seiya Odds
I want to dedicate a small section of this review to looking at the set odds. Mostly because we're starting to see some serious odds inflation going on here, getting almost as bad as the western manufacturers. With such a limited print run for this set, and having a heavy top card count — there are 44 cards in high rarity slots, it's not too surprising.
There are two ways to look at it, and fortunately Kayou is very public about this and has published detailed odds information for us. On one level you've got the packs themselves. Like most of these Asian sets there is no parallel or insert system here driving the chase – instead it's those limited top end cards. To help plan their print run, Kayou breaks their packs into two configurations which I refer to as "High" and "Low".

You will find the low configuration in around 15 out of every 18 packs, remember a box is 18 packs so it should contain around 15 of these. These packs will have 2 R cards, 1 SR, 1 SSR and then 1 AR – that's it. There is no chance for those low packs to ever upgrade and yield something higher than an AR. To get the better cards you need to find a high pack.
In a box there will only 3 high packs, just 3. These will also have 2 R, 1 SR and 1 SSR – but then the last slot can be any of QR, UR, BP and SE. So in a single box, on average you will get just 3 of those 44 possible top cards. With perfect luck, no dupes, you'd need 15 boxes to complete the set.
But it isn't simple, even within the 44 high cards there is wild odds variation. For example, the UR cards are found in 1:19 packs – or roughly 1 in a box. Serial numbered URs appear at a staggering 1:324 packs. That's matching what like a numbered autograph card would be at in a Topps set. That SE featuring Athena? Non-numbered that is found in 1:25,920 packs, at around 2$ a pack that's $50k to chase that card. The numbered version is 1:259,200 – so yeah, good luck!
The Cards
As breathtaking as those odds are, I can assure you that you will love whatever you end pulling from these boxes. Even the most basic rare cards, like you see above, look amazing. They've got all that great Kayou design, including interesting refraction work in the backgrounds helping the character art to stand out. They also feature that "laser-holo" outlining effect Kayou has been using for things like Transformers panel lines.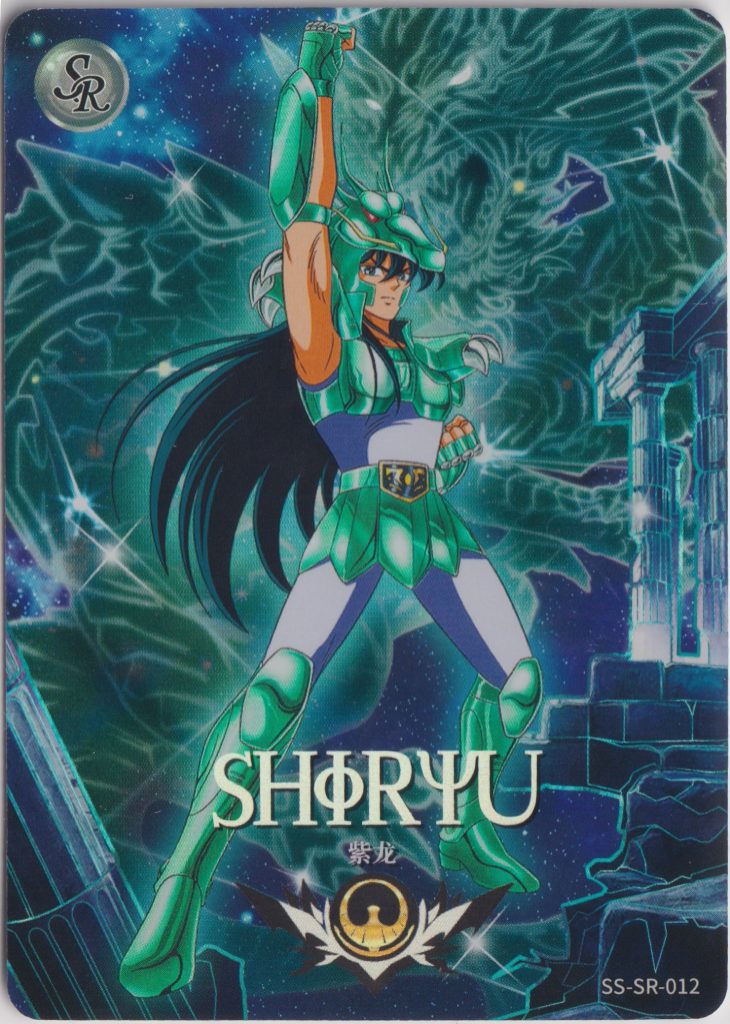 The SRs really shine with beautifully designed constellation background artwork. Even the backs of the cards, which are mostly common other than the number printed in the lower right, look awesome! This green Shiryu SR I pulled is especially nice with that cool star dragon attacking in the background. Shiryu is the bronze dragon knight, he's the most mature of the zodiac knights and often acts as their leader or at least advisor.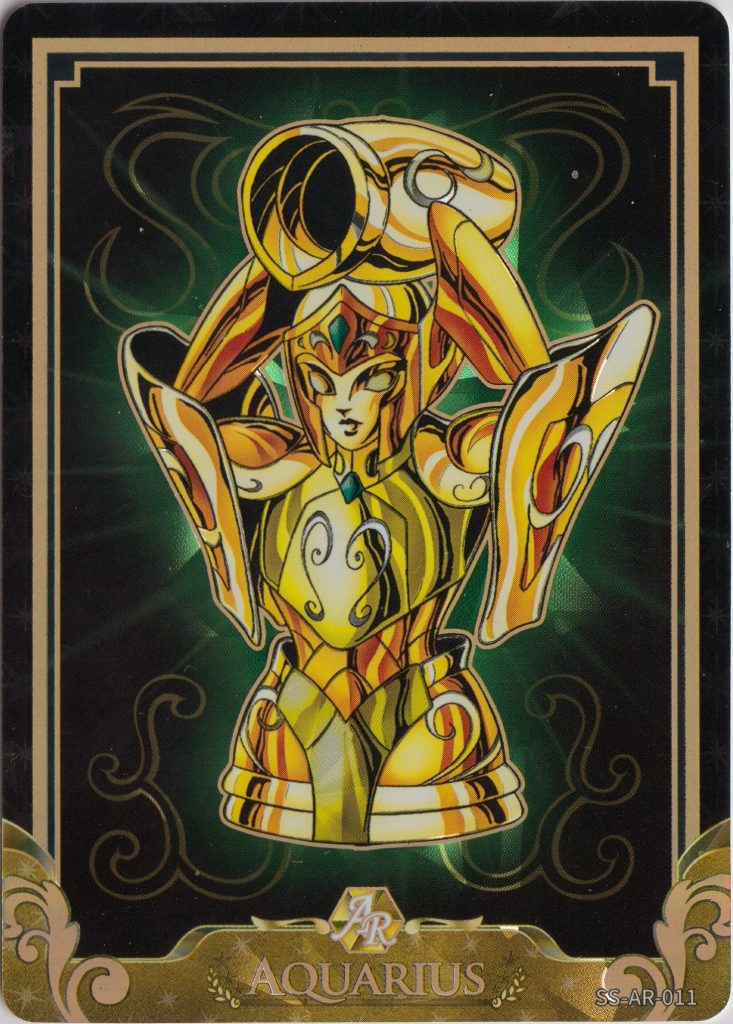 I've only opened 1 pack so far, 17 left to go, and the pack I picked was not a high configuration. We know that because it contained this wonderful AR featuring Aquarius. If you remember the odds from up above, AR is the hit of the low packs and will never appear in a high pack configuration. The card is jaw dropping, it doesn't really come through here in the scan. That green light behind the gold statue is refracted so that it only appears at certain angles. This really makes it seem like the statue is floating in front of the card.
Conclusions
What a set! It's easy to see why Kayou Saint Seiya has the most active secondary market we've seen so far – the cards look great! Still, those odds are a bit unsettling. It would be essentially impossible to complete even the base, non-numbered set by opening packs. Then again, hitting a numbered Athena – or even just a numbered BP – could be worth quite a bit of money. Assuming you don't end up keeping it.