Meow World: Stunning Cute Cat Collection Cards
Meow World is a set of cat trading cards. Just cute cats, all different kinds. It's basically the perfect set!
I'm one of those people that likes cats, maybe too much. We have three in our home, one I drove into the valley one morning at 6 am to adopt, that's my cat: Batman. My favorite shirt is one my Wife had made for me, and it is covered with photos of my cat. I wear that shirt proudly. So when I learned about this Cat focused set of collection cards – of course I bought it. Let's take a closer look at Meow World.
Table of Contents
The Meow World Box
Before we dig into this amazing set, lets talk a bit about the box and who is selling it. This box is configured just like the other premium sets we've looked at, like the Star Wars Pre Release boxes. These sets are more hobbyiest products, rather than retail. A retail product is meant to be sold pack-by-pack, at like a grocery store, not by box. We buy retail boxes, but that is not the intended way for them to be used.
This matters because retail configurations contain more "bulk" or base cards. This happens because the company wants the person buying a single pack to feel like they are getting value. So you'll often see high card counts in low-end retail products, 6-8 cards. Of those most will be base, then there will be 1 hit to keep you buying more packs. When you buy an entire box like that you will end up with tons and tons of duplicates – just look at how the SCP cards play out!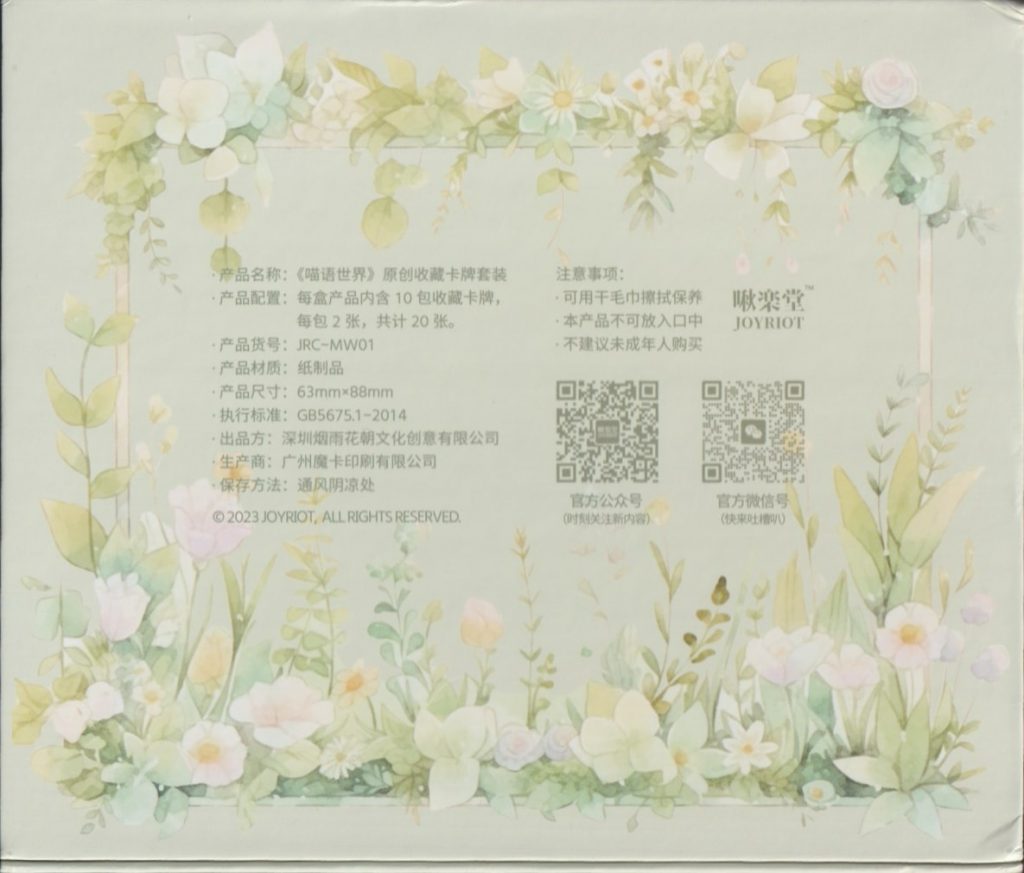 These "premium" boxes are different, they have less packs and less cards per pack. Usually you get 8-12 packs, maybe a box promo, and each pack will have only 2-3 cards. These boxes then cost more compared to the retail products too – so what's the deal? Well, all that bulk is difficult to store and organize, nobody wants 20 dupes of some base rare after all. So the premium sets aim to supply more hits in each box and they assume that you are opening the entire box – not just a single pack.
One more interesting thing about the Meow World box is that it isn't being sold everywhere, for example my favorite vendor isn't carrying this set at all. I ended up buying it from a shop I'd never worked with before: MyBoutiqueCards Store. It costs me just about 30$ and I bought 2 boxes. I've since bought 3 more boxes from Anime Card Store also for about 30$
The box contains 10 packs of 2 cards, so just 20 cards. This is no hit pack or promo.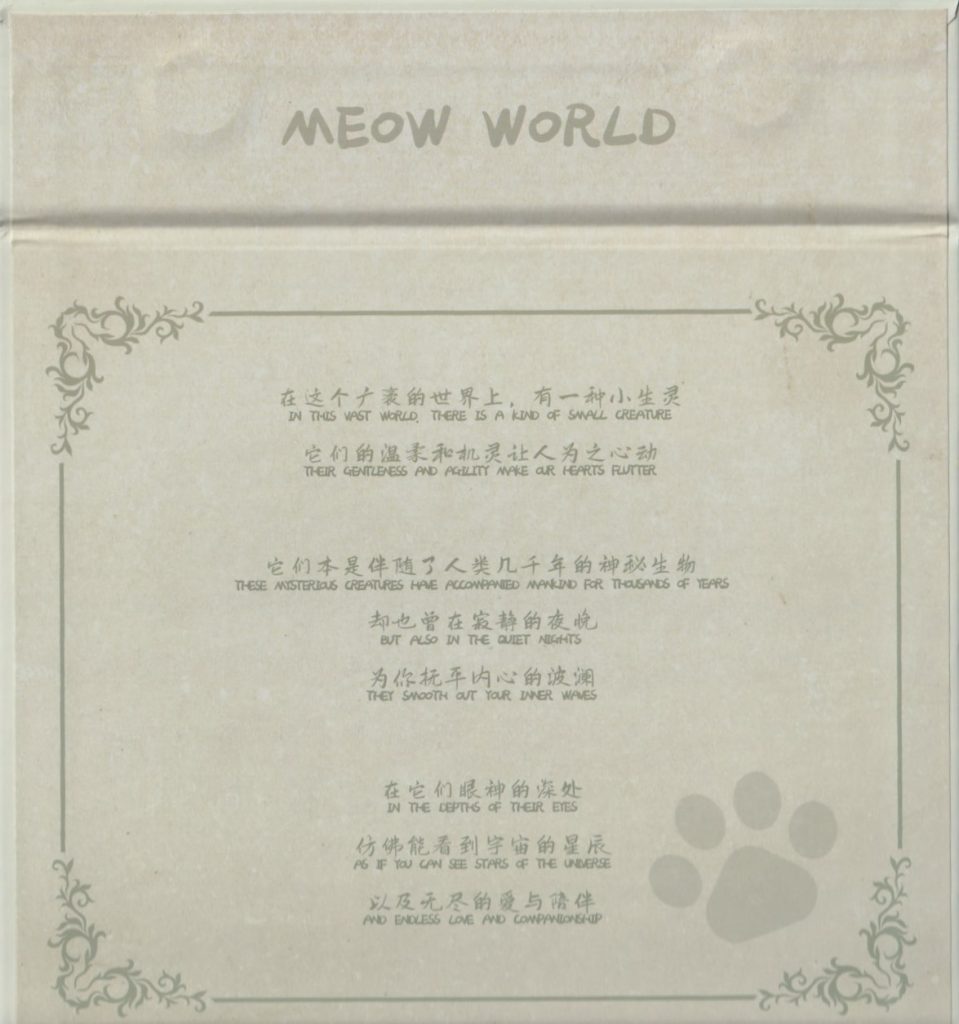 Meow World's Set
This is not a big set, yet it has some really interesting cards. At the base level, this set doesn't use standard rarity levels like R/SR/SSR, we've got 40 cards. These all feature pixel art of various cat breeds, it's a deep bench too with some specialized breeds like European Burmese and Siberian. I did some reverse image digging on these and as far as I can tell they are original to the set. I'm not finding any obvious images they copied from.
Next level has 24 cards, these are all classical painting style designs featuring cats inserted into Chinese style paintings. They look amazing in Meow World's flier, but I haven't pulled one of these yet. Then there is a super fun "Cats with Jobs" set of 24 cards. This is where we see memes like Keyboard Cat and Business Cat on collection cards – yes, this is an EPIC set!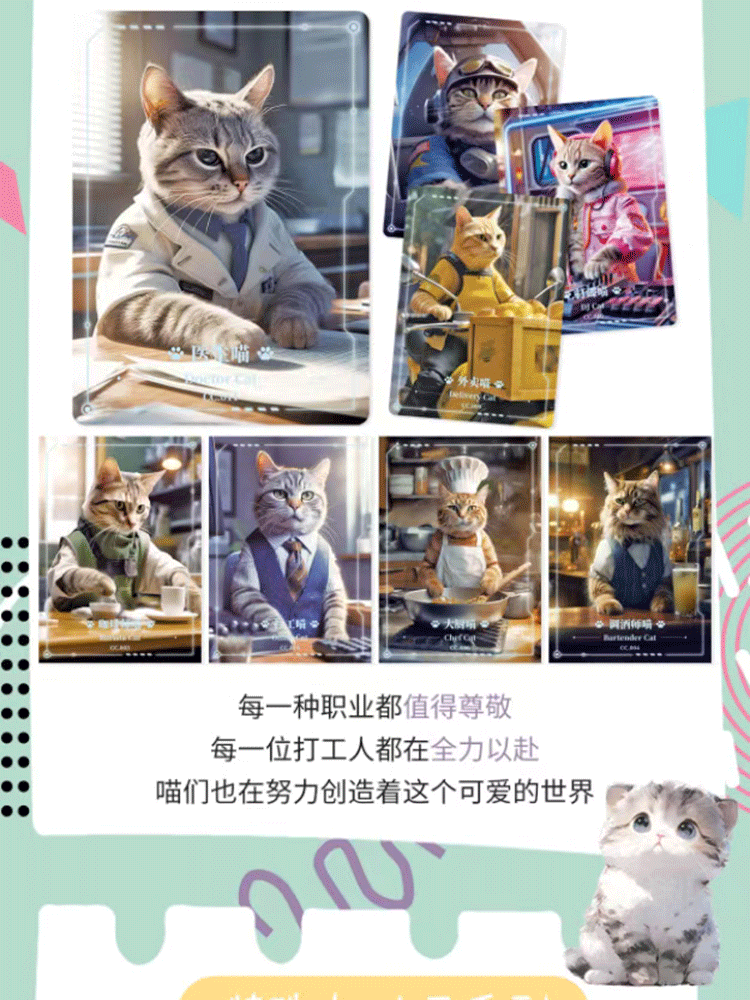 Then there are 18 puzzle cards, 2 differen 9 card puzzles. Each puzzle is artwork with cats added to it. One features Van Gogh's Starry Night, and the other features a painting I can't identify and might just be an original work. Next up are 16 "social media" cards. These feature artwork depicting a sort of cat facebook where the various cats are posting pictures and status updates.
The next level is really interesting, 12 "Werewolf" cards. These feature beautiful artwork and lots of foil. These cards support playing the game, every card you need is here from the Witch to the Doctor, Seer and even all the Wolves have cards. This would be a fantastic set on it's own, to see it here as just an insert set makes Meow World kind of amazing!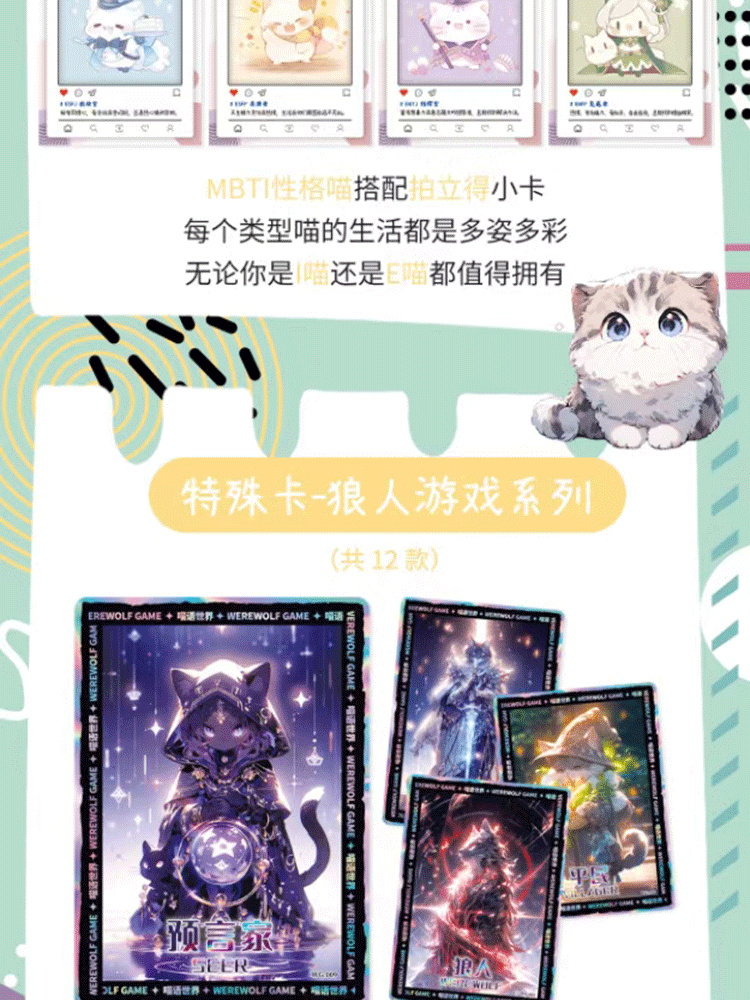 Moving one we've got a "World Wonders" level featuring 8 designs, each limited to just 300 serial numbered cards. These show a cat visiting one of the 8 wonders of the world, like the pyramids of Egypt or the Garden of Babylon. Then we've got 12 Zodiac cards, these are lenticular 3d cards featuring the zodiac signs and a really cool 3d view of the constelation! These are also limited to 300.
Rounding out Meow World are 5 "Currency" cards that featuring ancient Chinese coins, again limited to 300. At the top there are 2 actual coin cards, one silver and one gold – both of those are limited to just 100. There is also a prize/redemption system featuring a ton of really cute prizes like purses and necklaces.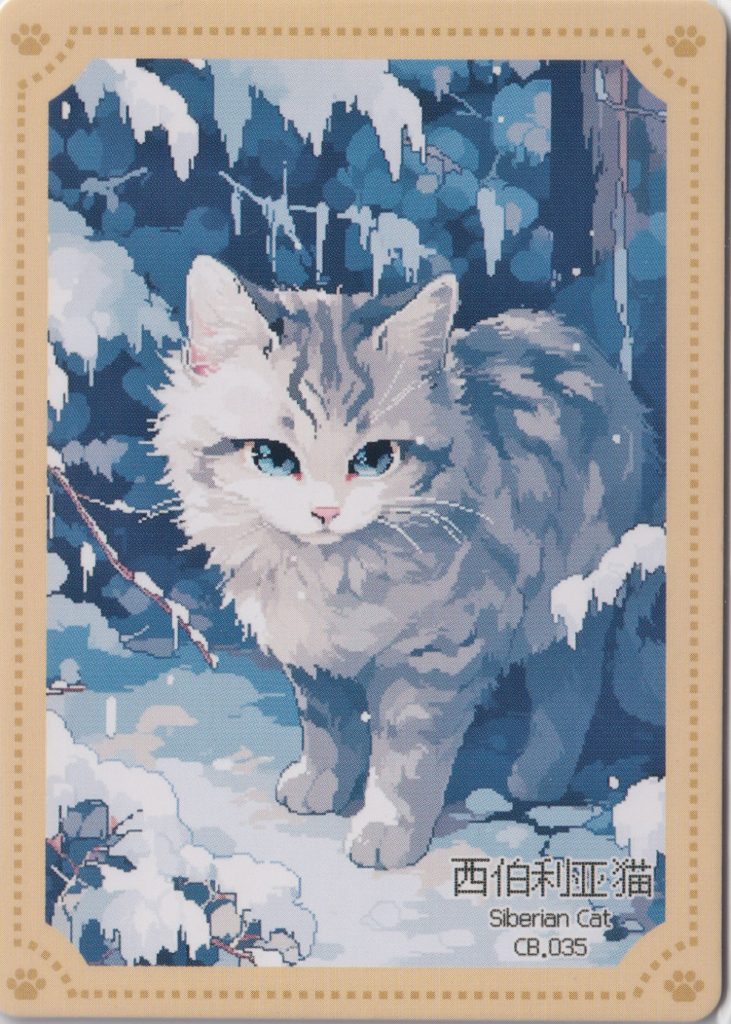 Meow World's Cute Cards
I've only opened 4 packs so far, so I only have 8 cards to show. I have 4 other boxes though. Above you see 3 examples of the base cards. You can see how well done the pixel art aspect is on these. I especially love the Heterochromia on the middle one! If you've seen these images before, even without the pixel filter over them please let me know. I'm always interested in knowing if these sets are original or stolen artwork.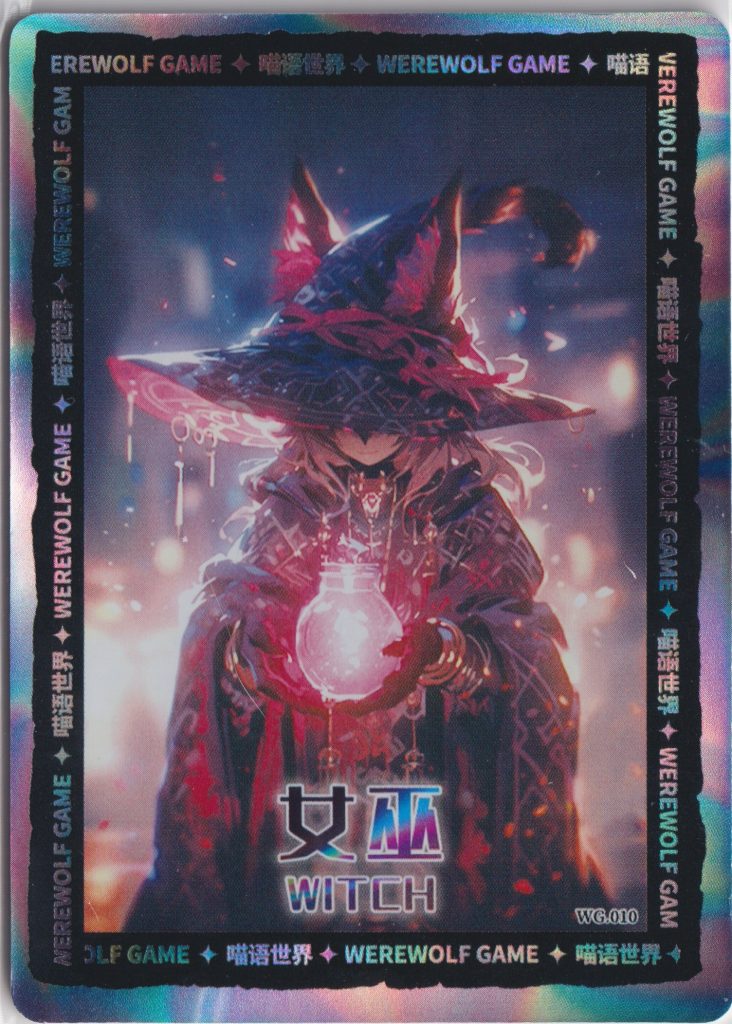 Above are three examples of the "Werewolf" cards I mentioned earlier. You can see how absolutely stunning this artwork is. The light in these images is expertly enhanced by the foil work on these cards. The back is also gorgeous but generic to all of the 12 cards in this tier, that's important as the game is a hidden information game. As somebody who loves concepts like this, poker cards for example, if these are in a set I'm always interested.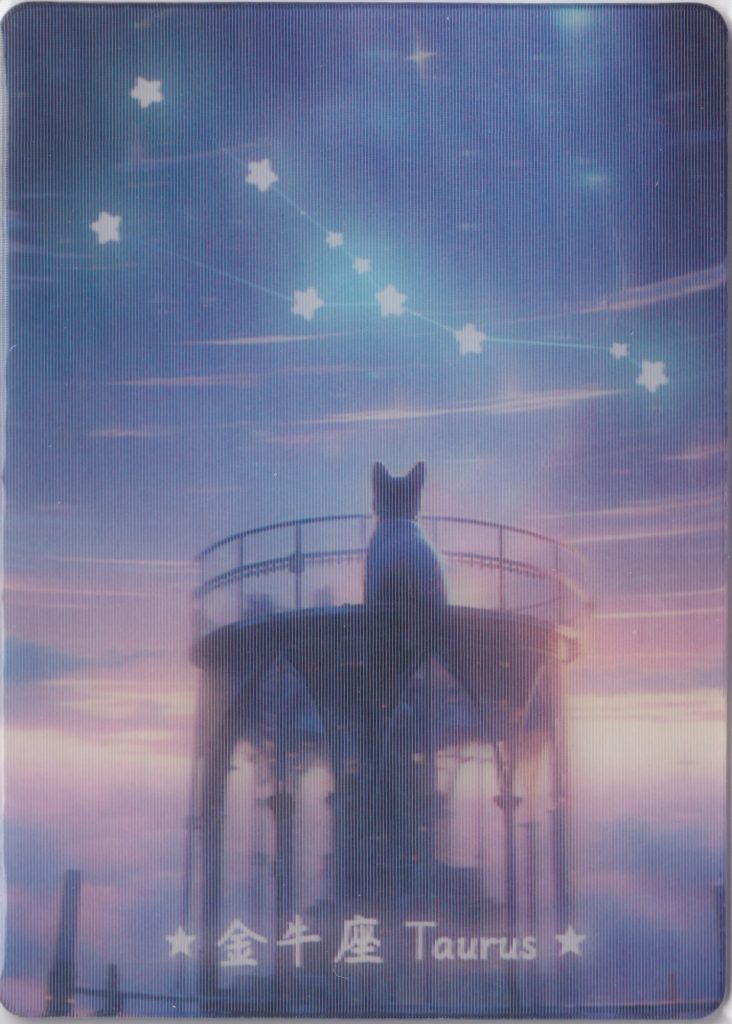 Here is the Taurus card I pulled. I didn't get any of the "Cats with Jobs" or painting cards yet, remember I've only opened 4 packs from 5 boxes. Still, this is quite a hit! It's serial numbered to 300 and the coolest part is that the constelation on the front is fully 3d! You can move the card side to side and watch the stars shift in the sky – how cool is that?
Conclusions
So look, I'm biased, I love cats. Still, Meow World is a fantastic set in own right. Really though, the absolute best thing about this is it's… innocence? Yeah, that's a good word for this. This is just cute. Sure it's commercial, obviously they are selling a product, they still made it fun. This isn't cat ladies or anything like that, it's just cats, just cute cats. I love it!